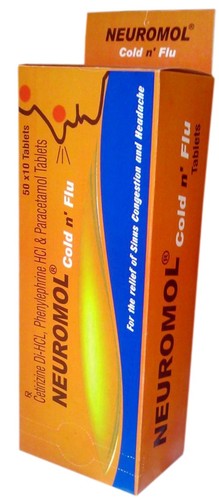 Product Description
Neuromol Cold N Flu tablets
Acetaminophen is a pain reliever and fever reducer.
Cetrizine is an antihistamine that reduces the effects of natural chemical histamine in the body. Histamine can produce symptoms of sneezing, itching, watery eyes, and runny nose.
Phenylephrine is a decongestant that shrinks blood vessels in the nasal passages. Dilated blood vessels can cause nasal congestion (stuffy nose).
Acetaminophen, Cetrizine, and Phenylephrine is a combination medicine used to treat headache, fever, body aches, runny or stuffy nose, sneezing, itching, watery eyes, and sinus congestion caused by allergies, the common cold, or the flu.
Contact Details
BIOSEARCH ORGANICS
D.I.C. Industrial Estate, Govindsar, Kathua - 184102, Jammu and Kashmir, India
Phone : +918037261838
Fax : 91-161-2802561
Mr Arshad Hussain (CEO)
Mobile : 918037261838
Mr. Sajad Hussain (CEO For Consumer Division)
Mobile : 918037261838